Why This Book?
It Has Everything You Need to File and Complete a Vessel Arrest Lawsuit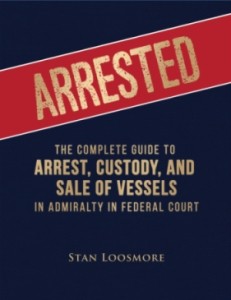 Arrested is the definitive practice guide to the unique Federal Court Admiralty procedures of vessel arrest, custody, and sale. It contains 87 Figures – sample pleadings and documents – every one of which is directly based on a pleading or document that has been actually used in a Federal Admiralty foreclosure case. Each Figure is annotated and presented in a form which can be scanned and modified for use. In addition, full purchase of this Practice Guide includes password access to the publisher's web site where all of the Figures are available for downloading in "pdf" form.
A lawyer with experience in Federal Court will, with this practice guide, be able to file, prosecute and complete a vessel arrest case with total confidence that it will be done efficiently and accurately.
STAN LOOSMORE is a retired Coast Guard officer who has practiced Admiralty law, in particular, foreclosures of Preferred Marine Mortgages and Maritime Liens with the accompanying vessel arrests, in Seattle since 1981. He has been involved in more than 300 Admiralty arrest and foreclosure cases. Mr. Loosmore is a regular speaker on vessel arrest, custody, and sale in Admiralty at Washington State Bar Association and Federal bar association seminars and was one of the authors of the Local Admiralty Rules for the United States District Court for the Western District of Washington. He is considered one of the nations' leading authorities on vessel arrest cases.
After thirty years of filing or appearing in lawsuits involving the foreclosure of preferred marine mortgages or maritime liens and the all-too-often related bankruptcy proceedings, and after receiving hundreds of telephone calls from lawyers with questions about preferred marine mortgage foreclosure and other vessel arrest cases, I have become convinced that there is a need for a practice guide for these cases. That is the purpose of this book. It contains all that the practitioner needs to file, prosecute and complete a preferred marine mortgage or maritime lien foreclosure case in admiralty in United States District Court.

-Stan Loosmore
Your Purchase
Log In