Buy the Book
Website Access Price: $250.00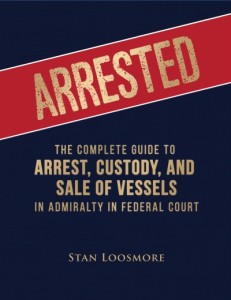 Shipping in the Unites States, handling and sales tax if applicable are included in the purchase price. When the book or books are shipped purchaser will be notified of purchaser's individual password for access to all the Figures in the Practice Guide on the web site.
---
No Website Access Price: $225.00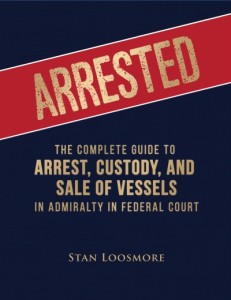 Special for Government, Educational Institutions and Non-lawyer purchasers. Purchase price $225.00, shipping in the Unites States, handling and sales tax if applicable included. Web access to the Figures is not included in the special price.

---
This Practice Guide is made up of twenty-four chapters arranged in seven parts:
The "Why" of Vessel Arrest,
Getting the Vessel Arrested,
Getting the Vessel Out of Arrest,
Custody of the Vessel,
Judicial Sale of the Vessel,
Completing the Case,
and Other Matters.
Eighteen of the chapters include figures that are forms of pleadings or documents. Every one of the figures is based directly on a pleading or document that was actually used in an actual federal vessel arrest case. The figures have blanks followed by numbers in brackets, such as: __________ [6].
Each chapter that has figures concludes with a list of notes and the numbered notes explain what is to be put into the numbered blanks in the figures in that chapter. Almost all of the figures are sufficiently complete that referring to the notes and filling in the blanks is all that will be required.
Your Purchase
Log In