Stan Loosmore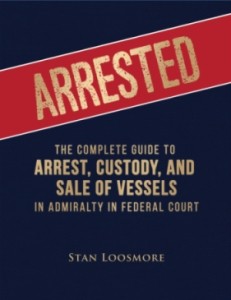 Stan Loosmore filed his first Preferred Marine Mortgage foreclosure case in April, 1981 and since then he has represented parties in more than 300 federal vessel arrest cases involving the full range of commercial and pleasure vessels in Washington, Alaska, Oregon, California, Hawaii, Idaho and Florida.
Mr. Loosmore is a graduate of the United States Coast Guard Academy with honors as a Distinguish Cadet and Honors Cadet, earned a Masters Degree in Mechanical Engineering and the degree of Naval Engineer from the Massachusetts Institute of Technology and was elected to Tau Beta Pi and Sigma Xi, and earned the degree of Juris Doctor from Georgetown University Law Center where he served as an editor of the Georgetown Law Journal. He has been admitted to the practice of law in Washington and California and in the federal district courts in those states and has been designated a Proctor in Admiralty since 1981.
After graduating from the Academy he served more than 20 years on active duty in the U. S. Coast Guard. During that time he spent five years at sea, with one tour as Engineer Officer on the icebreaker Burton Island and a trip to Antarctica, and served in both legal and engineering capacities ashore, including assignment as the Secretary of the interagency Ship Structure Committee. During that assignment he wrote SSC-200 which summarized and catalogued all of the publications of the Ship Structure Committee from its founding in 1944. He was appointed as the technical and legal specialist as well as Recorder for the Marine Board of Investigation for the sinking of the Great Lakes Ore Carrier Edmund Fitzgerald and he wrote the report of the Marine Board. And yes, he did get to meet Gordon Lightfoot.
Mr. Loosmore has been a regular speaker on federal vessel foreclosure and arrest cases at seminars presented by the Washington State Bar Association and the Federal Bar Association for the Western District of Washington. He served on the committee that revised the Local Admiralty Rules for the Western District of Washington and in 2011 prepared a proposal for the complete revision of those Local Admirably Rules which remains under consideration.
Your Purchase
Log In